10/27/2021
Do not accept a lotteries breach notice without checking with NANA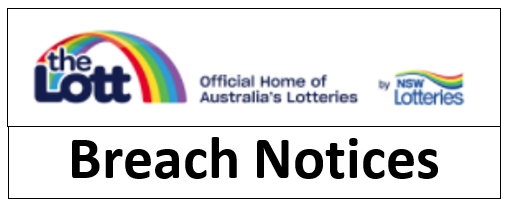 Newsagents are placed in a double jeopardy position because they are subject to site surveys which will result in a GREEN, AMBER or RED compliance/performance rating, but, after completing a site survey and the required follow up action the Newsagent may receive a breach notice which automatically rates them as RED and they will lose income for the full following cycle, roughly 3 months. Log in to read more 
NANA has found that breach notices issued by New South Wales Lotteries Corporation Pty Ltd/Tabcorp/The Lott are often incorrect and are not based on a full evaluation of all of the circumstances.
Any breach notice issued by the franchisor must be based on a clear ability to do so as specified by the franchise agreement.
If you can afford to lose more than $4,000 (and up to $7,000) in lottery income then we suppose you can just cop it on the chin. But NANA recommends you refer any breach notice you receive from the franchisor for specialist advice. NANA stands ready to provide Newsagents with the required specialist advice. Where a valid case to challenge a breach notice exists, NANA will fully support a Member to seek redress and to get the breach notice overturned.
NANA always conducts its review of any matter between a Newsagent and the franchisor on a confidential basis. NANA will not escalate a matter unless the Newsagent gives informed authority to do so.
Any Newsagent across NSW and the ACT is invited to contact NANA on 1300 113 044 or by email to nana@nana.com.au regarding any breach notice issued by New South Wales Lotteries Corporation Pty Ltd/Tabcorp/The Lott. All enquiries will be handled in a confidential and professional manner.
NANA does not receive nor does it rely on any direct or indirect funding from New South Wales Lotteries Corporation Pty Ltd, Tabcorp Holdings Ltd or The Lott. NANA believes that its objectivity in its engagement with the franchisor is unfettered and unrestrained.