09/30/2021
Effective political engagement – NANA at the forefront of advocacy on behalf of Newsagents at the highest level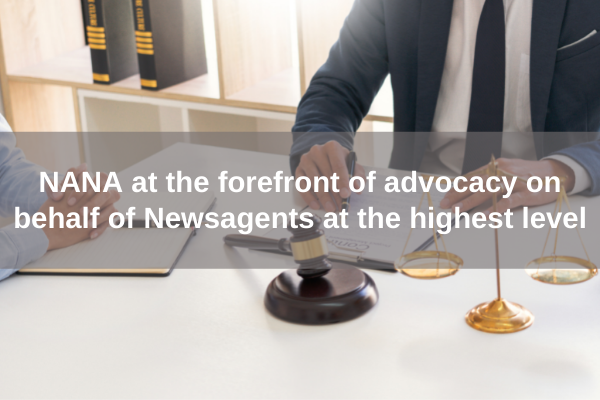 NANA has been at the forefront of representation for Newsagents in NSW and the ACT during the COVID-19 pandemic. NANA is in the privileged position of being able to engage with the political and regulatory domains from senior staff through to Ministers, the ACT Chief Minister and NSW Premier.
NANA has taken a multi-pronged approach to how it engages with Government, actively coordinating with the Council of Small Business Organisations Australia and other representative business organisations. NANA regularly briefs senior Government and agency staff including the Australian Small Business and Family Enterprise Ombudsman and the NSW Small Business Commissioner.
Last night NANA met with the Chair of the NSW COVID-19 Retail Task Force to ensure the concerns of Newsagents are clearly understood by Government as it continues to formulate policy.
Tomorrow (Thursday 30 September), NANA will meet with the NSW Department of Premier and Cabinet to work on the Public Health Orders proposed as the NSW economy emerges from lock down.
NANA has invested considerable staff resources to support the industry. That is the right thing to do.
NANA has similarly invested considerable resources in its engagement with the Fair Work Commission on a range of matters which directly impact Newsagents. NANA has approached Fair Work Commission matters on a cooperative basis with ALNA and COSBOA for the benefit of the industry. As usual, NLNA has been absent from all Fair Work Commission activity for a considerable period.
NANA expects there will be challenges ahead as Governments at all levels in various jurisdictions move forward with their recovery plans. NANA will work with Governments and NANA's partners to ensure that Newsagents are in the best position to move forward as the veil of COVID-19 gradually lifts from the economy.
NANA will be pleased to discuss its approach to representation on behalf of the industry with any NANA Member. Call NANA on 1300 113 044 or send an email to nana@nana.com.au.