09/09/2021
NANA appointed as advisor to NSW Government COVID Taskforce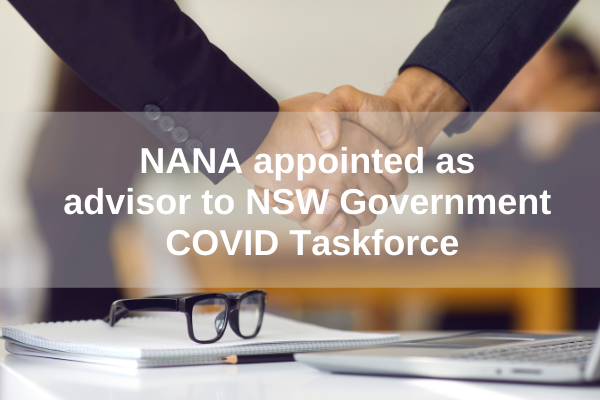 In recognition of the important role played by Newsagents in their communities and to the economy, NANA has been appointed to a specialist advisory panel providing advice and guidance to the NSW Government COVID Taskforce. Participation in the advisory group is restricted to those organisations which can respond promptly to requests for advice from the NSW Government and which have the ability to present the views of their members in an effective and considered manner.
NANA has participated in two high level advisory sessions in the past fortnight with further sessions scheduled for coming weeks.
NANA's focus has been to ensure that as the NSW Government plans its way out of the current lockdown phase and implements the agreed National Plan to Transition Australia's National COVID-19 Response, that it understands its actions MUST:
– Be clear and consistent;
– Be timely;
– Be fair to all concerned;
– Ensure that Public Health Orders and NSW Health directions are immediately available and easily understood;
– Ensure that all administrative and institutional barriers to a full reopening of the economy are removed; and
– All conflicting legislation (OH&S, discrimination and industrial) must be promptly resolved.
NANA will continue to advise Members on the role they will play as we all emerge from what has been the darkest period in retail history since the Second World War.
Any NANA Member who wishes to raise any particular matter, particularly perceived barriers to reopening in full, are invited to contact NANA on 1300 113 044 or by email to nana@nana.com.au.