10/27/2021
NSW Lotteries "tin ear" works for a change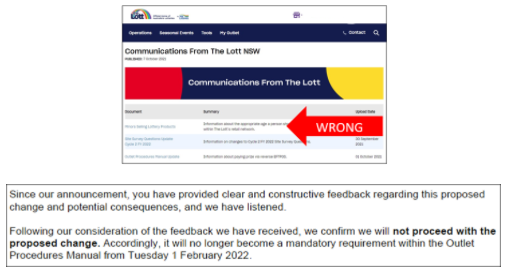 In a broadcast communication to Newsagents last Friday, 22 October 2021, Stephen Price State Retail Manager – NSW Lotteries confirmed what NANA stated would happen. NSW Lotteries dropped their ill-advised attempt to illegally restrict the age of employees who can sell lottery products. Log in to read more 
Surprisingly, NSW Lotteries has said they have listened to the clear and constructive feedback. That is something to be commended and it is great that their "tin ear" is working.
However, there is a deep back story to this whole saga. There are many elements which had a direct impact on NSW Lotteries decision to ditch the age restriction, not least of which was that it offended three different pieces of discrimination legislation and was also offensive under the Fair Work Act. Once the back-pedalling started and Tabcorp sought some proper legal advice, the eventual outcome was not surprising.
NANA worked directly with impacted Members, Minister Dominello, Liquor and Gaming NSW and the Fair Work Commission to defeat this threat to the way that small and family businesses conduct their affairs. NANA issued clear, consistent and repeated warnings to NSW Lotteries and Tabcorp that they were pursuing a policy which was illegal.
It shouldn't be necessary to see the outcome as a win. The attempt to introduce the policy should never have happened.
NANA will keep a close watch out for any back door attempts to force an age restriction via changing legislation and regulations. If a new threat to the way you as a Newsagent conduct your business emerges, NANA will respond accordingly.