11/04/2021
Terminal Connect fails to deliver on reconciliations – ISI's "all over the shop"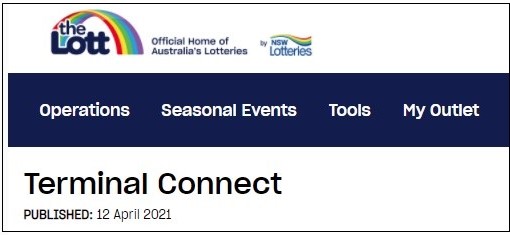 New South Wales Lotteries Pty Ltd released a User Guide and set of FAQs about Terminal Connect back in April 2021. The hype around Terminal Connect at the time and since gave Newsagents hope they would be able to produce an accurate transaction slip through their POS systems. Six months on, it is clear the system does not work correctly when it comes to recording all ISI transactions on a transaction slip produced through all POS systems which are part of the Terminal Connect project.
NANA knows the system does not work the way Newsagents anticipated. Log in to read more 
The statement which still appears on Retailers Web which extolls the positive benefits of Terminal Connect states:
Nowhere does it say that the system will not accurately produce a transaction slip through a POS system which correctly identifies all ISI sales. Therefore, the detail included in a transaction slip produced through a POS system connected to Terminal Connect can be wrong and the promised ease with which reconciliations can be completed is illusory.
NANA's advice to Members is to double check a multi ISI's terminal transaction slip against a sales slip produced through their POS system connected to Terminal connect. You may notice results like those below (the second of which) which clearly demonstrate the problems and confirm the POS sales slips may not accurately record the sales.

This transaction worked

This transaction didn't work
At the end of the day, a manual reconciliation system should provide an accurate reconciliation of all lotteries products sold including ISI's.
NANA Members who have been promised an accurate system by their POS provider are advised to contact the provider and ask for an explanation why the system doesn't work.