03/03/2021
Prime Minister and Minister responsible for Australia Post confirm no more magazines in post offices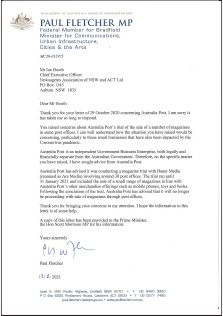 NANA has previously advised Members of the positive outcome of the effective campaign conducted against the sale of magazines in Australia Post corporate outlets. As recently as late last week NANA received written and formal confirmation on behalf of the Prime Minister and Paul Fletcher the Minister responsible for Australia Post that " ….. Australia Post ….. will no longer be proceeding with the sale of magazines through post offices."
So there it is, in black and white.
Once again NANA thanks Members and other industry parties for the support they gave during the campaign. Newsagents have a voice which is heard.
NANA will continue its effective representation of Member interests to all levels of government, regulators and suppliers to the industry.
If you would like further information, contact NANA on 1300 113 044 or by email to nana@nana.com.au.