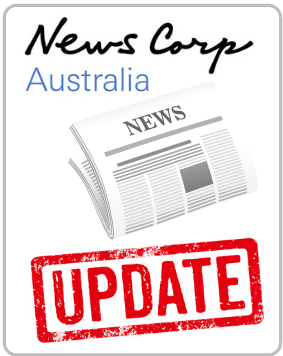 Radio network 2GB has been running a minor campaign in recent days against the poor delivery performance of News Corp Australia and its contractors. On Wednesday morning this week, Daily Telegraph editor Ben English fronted the Ben Fordham program and offered a bunch of "the dog ate my homework" excuses for why News Corp Australia's home delivery contractors in metropolitan Sydney couldn't get home deliveries right when Newsagents managed to satisfy subscriber expectations for decades.  Log in to read more  It appears to NANA that News Corp Australia is prepared to accept ongoing sub standard delivery performance and the only real offer they made was to increase resources at the customer call centre. NANA's experience of such moves is that they do not get newspapers delivered on time and generally result in just adding a day to the subscriber's period to compensate for the missed delivery.
Ben English also failed to mention anything about what can at times be an abysmal performance on getting bulk deliveries to non-metropolitan Newsagents across the ACT and NSW. Just last weekend both Saturday and Sunday deliveries were delayed by up to 4 hours because of production malfunctions at the Chullora print plant. These types of issues have nothing to do with the contractors who undertake primary distribution. If the papers are not printed, they don't have anything to deliver. In this case, News Corp Australia waited until after 2:00AM to advise some, but not all Newsagents of the delays and even then there was not a lot of detail as to the length of the delay anticipated. There isn't much that Newsagents can do at 2:00AM in the morning in response to an email notification from News Corp Australia.
News Corp Australia has indicated it will be making changes at the call centre this coming Friday which may be to implement the additional resources spoken about by Ben English.
NANA regularly meets with senior News Corp Australia executives to seek to resolve primary distribution problems. In recent months a lot of attention has been paid to primary distribution issues in the North, mid-North, Central West and South West of NSW and some areas of the ACT. Generally, improvements have resulted from those consultations and NANA and News Corp Australia have scheduled the next meeting.
NANA will continue to agitate for improvements in primary distribution to Newsagents across the ACT and NSW. Any NANA Member who wishes to discuss primary distribution issues with NANA can contact us on 1300 113 044 or by email to nana@nana.com.au.